Restaurant Clam Chowder Taste-Off
VOTE FOR YOUR FAVORITE CLAM CHOWDER!
Saturday May 1st & Sunday May 2nd 12PM to 5PM
Put your taste buds to work at the annual Clam Chowder Taste-Off where local restaurants compete for the coveted Best Chowder trophy and bragging rights.
The Clam Chowder Taste-Off features 11 local restaurants who will be serving their best recipes. Your mobile pass will include twelve 2-oz. samples located at each restaurant as well as a beverage, 2021 Beach Visitors Guide, replica postcard, 2021 Tide Book, exclusive discount coupon for event merchandise that can be picked up at Veteran's Field
Participating: Salt Hotel & Pub, Galletti's Spaghetti, Castaways Seafood Grille, Drop Anchor Seafood & Grill, The Chowder Shop, The Depot Restaurant, The Cove Restaurant, Lost Roo, Columbia River Road House, North Beach Tavern, Sara's Rusty Spur Bar & Grill.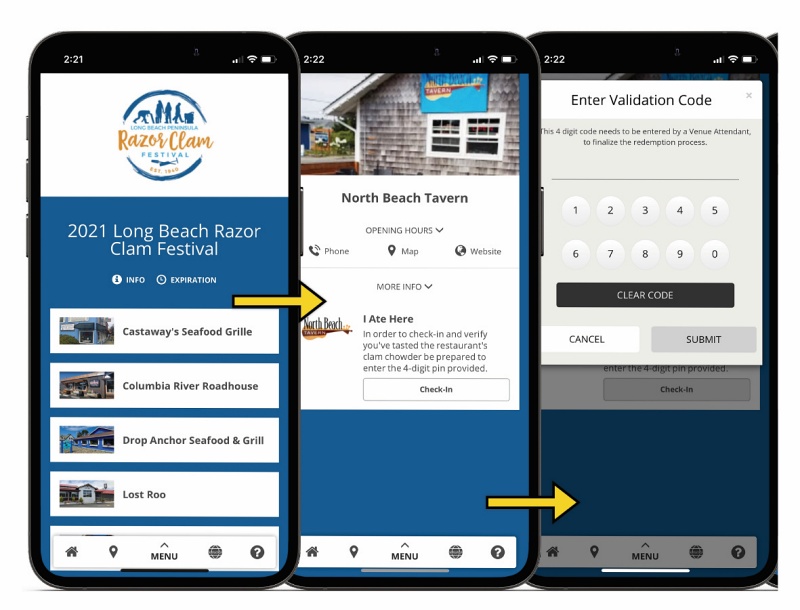 Upon arriving at each venue, look for the designated pop-up canopy tent located outside (chowder samples included in the mobile pass are not provided inside the restaurant).
Select the check-in button on your mobile pass and enter the 4 digit pin provided to you by the venue attendant.
There are 12 restaurants competing this year. Once you have checked-in at all 12, you will receive a text message and/or email with a link to cast your vote for your favorite chowder.
The ballot includes a very short survey that, upon completion, will automatically enter you in a prize drawing for a chance to win a FREE night stay at the Adrift Hotel + Spa and FREE razor clam gear from Willapa Marine and MORE!
Receive your beverage, 2021 tide book, vintage postcard, LBRCF sticker and more at the Official Razor Clam Festival tent located at Veteran's Field 3rd Street SE.
We are looking forward to seeing you there!